Agency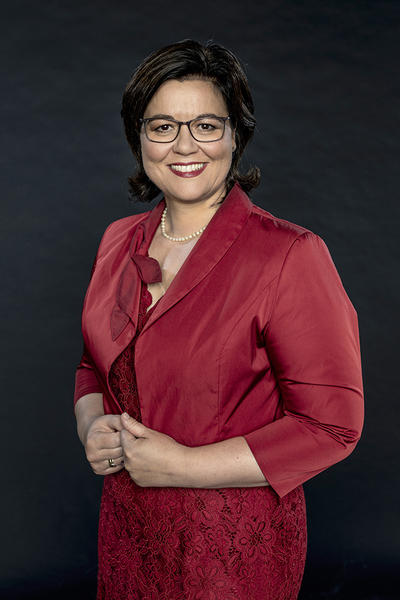 A Matter of Trust
One of the most exclusive addresses for singers is located on Heumarkt, across from Vienna's Stadtpark. For eleven years, the quiet inner courtyard of an atmospheric Biedermeier building has been home to Machreich Artists Management and its founder Helga Machreich – energetic, smart, endowed with plenty of empathy and an almost boundless enthusiasm for her work.

Such seamless biographies are rare, as is the fact that one coincidence is enough to bring individual talent and personal passions together as the point of departure of a solid professional career, especially one which the passing of the years does not grind down to routine, but which keeps engendering joyful enthusiasm. Helga Machreich has certainly been lucky, but she knew good fortune when she saw it and grasped her opportunity. She brought all her strength to the task, made decisions unflinchingly, with courage, self-confidence and generosity, but without compromise. Her heart and mind are involved in all her decisions, and when musical talent and an understanding of economic processes blend so seamlessly as in her case, success is the harmonious result.
The manner in which Helga Machreich represents the interests of about fifty singers with international careers is not just about good contracts – although her name may be read as programmatic ("Machreich" translating literally as "make-rich"). The artistic development of her clients is at least as important to her. She considers her agency not a "department store", but a "boutique". Her artists are not represented as a certain product, but with their goals and aspirations; presenters, orchestras and conductors are offered tailored projects – in constellations in which not only the overall garment fits, but also every seam and dart, to stick with the metaphor. Occasionally, intuition is more important than clever ideas. However, the foundation of it all is a personal relationship built on trust, and discretion regarding the intimate aspects of the collaboration with her clients.
Clarinet and Mezzo-Soprano
From her earliest youth, music was a natural and essential part of Helga Machreich's life. Born in Villach in Carinthia, she spent the first fourteen years of her life in the Pinzgau near Salzburg. There, her father's numerous family members lived; many of them played in traditional folk bands and sang in harmony. When her grandmother assembled all her grandchildren, it was a respectable chorus. "I was the oldest of thirty grandchildren. We still sing together today when the family gathers." At the age of eight, she decided to study the clarinet. The instrument accompanied her for twenty years, offering "spiritual nourishment" and balance, "in the same way other people practice sports or yoga: the clarinet was always a part of me."
An engaging music teacher had opened her ears to classical music while she was still in elementary school, and when she heard The Magic Flute at the Salzburg Festival at the age of ten, with Christian Boesch in the role of Papageno, she was infected with the opera bug. After graduating from secondary school in Spittal an der Drau, she moved to France for a year before studying economics in Vienna. Recognizing that her talent was not sufficient for a professional career in music only made her practice her hobby with greater passion. Three times a week, she would attend the Vienna State Opera on standing-room tickets, experiencing unforgettable evenings such as Ileana Cotrubas' farewell performance in La Bohème or Natalie Dessay's debut in Les contes d'Hoffmann, plus "80 percent of all song recitals". She found herself a vocal teacher and took lessons for six years. "I am a mezzo-soprano. I have a special relationship with this middle voice in general."
Not least, Helga Machreich was a member of the amateur orchestra of the University of Economics – both as a clarinettist and organizer. That was her "gateway drug" to her profession. "I always enjoyed organizing things; it never felt like work." She took over the management of the WU orchestra from her fellow student Maria Zeugswetter when the latter started working for the prominent Viennese artist agency Raab & Böhm. And soon, the decisive opportunity there came for Helga Machreich as well.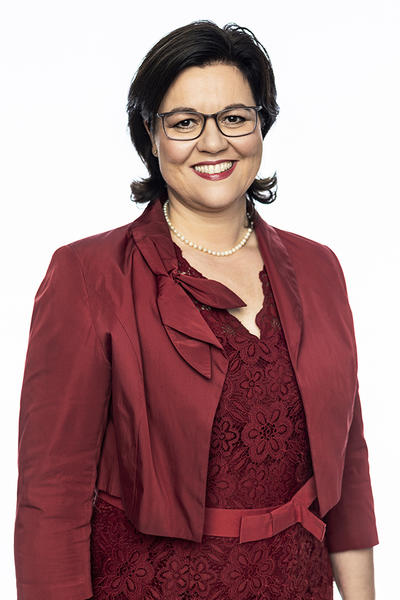 "I had a lot of guardian angels"
One afternoon in January 1997 she received a call from Horst Böhm, who ordered her to appear, without preparation, for an interview the very same day. "The following Monday, it was January 13, I started working as Ilse Halbmayr's assistant in the vocal department. I never applied. I was twenty-seven and didn't know anything. But I think I was good at improvising – and I knew I had come to the right place."
Tears of joy at her first "official" concert at the Musikverein. Moments of shock when she was alone at the office and the Schubertiade called to ask for free dates for Robert Holl. She grew into her tasks. She had the requisite expertise, for listening experience had given her familiarity with most of "her" singers. "I knew their voices and repertoire." She learned the trade and daily business by doing. The fact that her studies had diminished her fear of numbers and paragraphs was an advantage in mastering the challenges of her work.
She was a quick study. Within five years, she had been promoted to managing director. Three of her beloved mezzo-sopranos – Marjana Lipovsek, Bernarda Fink and Iris Vermillion – were the first whose general management she took on; soon they were joined by Michael Schade, Thomas Quasthoff and Patricia Petibon. In addition to her responsibility for managing the vocal department, she took on many of the general management tasks resulting from Austria's joining the EU. The next logical step had been mutually agreed upon: after his retirement, she was to follow Horst Böhm as the director of the agency.
Things, however, turned out differently. In the autumn of 2010, Helga Machreich gradually realized that she had to stand on her own feet and make her own way. In a way, the decision had ripened organically, for she was expecting her second child, and the due date on December 8 formed a kind of natural break. When she left her office that afternoon, it was the first step towards an independent professional life.
She took a month for herself and her baby daughter Clara. Then, while still on maternity leave, she quickly made all the preparations to launch Machreich Artists. She never regretted her decision. "It all came together. It was simply right."
Friends helped her find her office on Heumarkt – "the first office I viewed". In May 2011 she founded her own GmbH (limited company), received financial support, and was finally able to take over the complete vocal department of Raab & Böhm with about 50 artists as a buy-out for her agency. "It worked wonderfully, a seamless transition. All the projects had to go on, after all. But now it was my business."
As is the nature of business, the transfer required some protracted negotiations, but was accomplished without rupture or resentment. After all, that has always been important to Helga Machreich: "I like working with others, and I do it well. I have never 'stolen' an artist, but always tried to create seamless transitions when someone wanted to join my roster. In this business, everyone knows everyone, and you have to be able to look one another in the eye."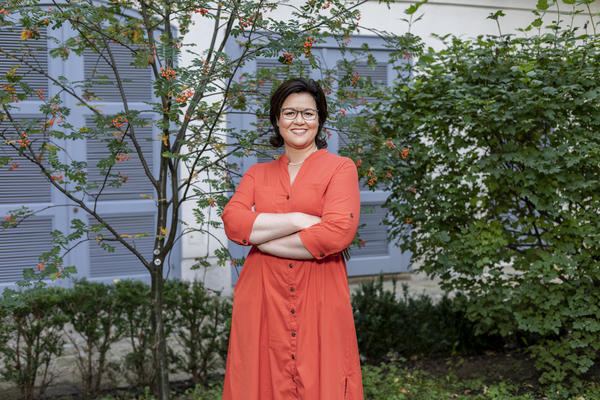 "Work hard and live your dream"
Helga Machreich is the oldest of three children. Her father was a developer and died at the age of only 53. When she was seven, he had a severe accident at work which left him hemiplegic. It was a hard blow of fate which the family had to manage alone, without outside support. "There was no such thing as crisis intervention back then. That was when my perspective on life and society changed fundamentally. We children learned early on to be independent, to lend a hand, not to shirk work." Accordingly, all three of them took life in hand with great determination. Her brother Uwe trained as a cook and today has his own restaurant with his wife Veronika, the "Triad" in the Bucklige Welt region of Lower Austria, winner of three stars. Her sister Ingrid trained as a dressmaker and is currently associate workshop director of the ladies' tailoring workshops at the company Art for Art.
Due to her role in family hierarchy, one might surmise that Helga Machreich was born to be a "boss", accustomed to leading others. She says: "The greatest challenge is managing staff. I have no problem with fifty singers, but a staff of five is something completely different." Not least because they are generally of a younger generation. However, in this respect everything has also worked out for her, and she is pleased at the "wonderful combination" of people offering her everyday support. "I must be able to delegate. The agency is as good as the sum of qualities of those who work here."
In addition to the artistic competence, the ability to judge voices and their potential for development as well as the musical foundations, such as piano playing and score reading, she expects mastery of foreign languages, with a special focus on French. This gives Machreich Artists a specific range of activity, including the representation of artists such as Patricia Petibon and Sabine Devieilhe. "My entire office speaks English and French, that is very important to me." The practical tasks include the negotiation of fees and reading contracts, "not only in German", as well as profound knowledge in questions of taxes and licensing. All this is assumed by Helga Machreich as a given.
The most important task, however, is and remains personal contact and collaboration with the artists, for whom she wishes to design new, tailored challenges and initiate inspiring partnerships with conductors, orchestras and institutions. This requires one trait which can hardly be learned: "The feeling for the right moment," or intuition. "When you sense that an artist is not 100 percent behind a project, it's better not to do it." And one must always be conscious that it is not just a business relationship, but one that encompasses a highly intimate area. "A voice is always something intimate. And if you arrange someone's calendar, you are determining their private life." This requires a high level of trust, including from the artists' families.
A typical woman's profession? – By no means. Helga Machreich raves about her role model Robert Rattray, the director of Askonas Holt in London who died in 2018, and not least, she praises her former boss Horst Böhm, whose philosophy also informed her own creed: absolute top-level service which offers artists the red-carpet treatment. "I make time for every single one, that is very important to me. We offer highly intense personal attention. It would be impossible to work for many more than about fifty artists in this way; that would seem dubious to me."
Accordingly, fluctuation is low at Machreich Artists. New clients tend to come at the recommendation of existing ones. Thus, Helga Machreich has shaped "her" singers during two decades of collaboration into a kind of family. These personal ties occasionally lead to spontaneous surprises – for example when she returned from a trip to find the terrace of her office covered in a beautiful wooden floor, perfectly installed by Florian Boesch, a product designer by training.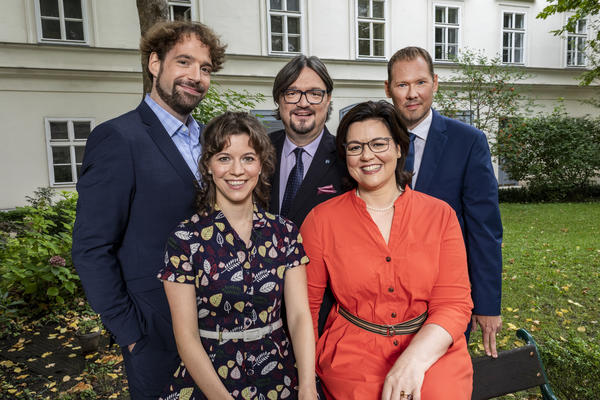 Incidentally, one typical female problem never arose in Helga Machreich's private life: she is able to combine her beloved work, which takes up to 70 hours of her time per week, and her no less beloved family, without major problems. This is due to her husband, Max Unterzaucher from Klagenfurt, whom she met in the orchestra of the University of Economics. Trained as a mechanical engineer, he had studied horn with Roland Berger at Vienna's University of Music, but worked in the construction of international industrial complexes. They got married in 1999. When their first child was on its way in 2004, he took a job as a tour manager at Raab & Böhm. Half a year after the birth of their son Clemens, he took parental leave to take care of the baby. He subsequently expanded his role as a father substantially. As an employee of Machreich Artists, he is now not only a pillar of the agency, but also the centre of family life, guaranteeing the necessary calm and continuity of daily routines. "He covers my back and is present for the children. He has no problem standing in the second row. We are a good team."
Continuous travel is unavoidable for Helga Machreich in order to take care of her family of artists in the accustomed intensity and stay in touch with the business. "That is really tiring. The evening before, I often think: oh God! But then I turn on autopilot and stop thinking about it. Luckily, I am able to sleep on long-haul flights."
Not everything she began has turned out to be a great success; occasionally she misjudged a situation or person. But Helga Machreich is living her dream. "I found my passion." She still attends every opera, every song recital, every concert with enthusiasm. And when she is in the car and an excerpt from the CD of Brahms songs comes on the radio – a CD which she had to work hard to convince Bernarda Fink to record – she has to drive onto the emergency lane and stop the car, because tears cloud her vision. "As long as it all moves me to such an extent, I would not want any other job!"
There are things she is proud of. Especially in Bernarda Fink's case, she managed to open a larger horizon of activity for the artist, who was originally confined to the specialist area of Early Music. The greatest of her adventures was certainly with Thomas Quasthoff. For years she was responsible for his contracts at Raab & Böhm and was looking forward to taking care of him in the future as well. And then he informed the newly-minted agency director that he was ending his career as a classical baritone and wished to cancel all existing arrangements. "I cried bitter tears, and not about the commissions. At that moment, all I thought was that I would never hear that voice again! And then I had to talk to all the presenters and find replacements. In January 2012, his schedule was empty." Helga Machreich gradually filled it again: with the jazz projects causing an international stir, and in the classical music field with engagements as a narrator. "I went the whole way with him. That is the best thing of all: to accompany an artist from the beginning to the end."
German text: Monika Mertl
Translation: Alexa Nieschlag