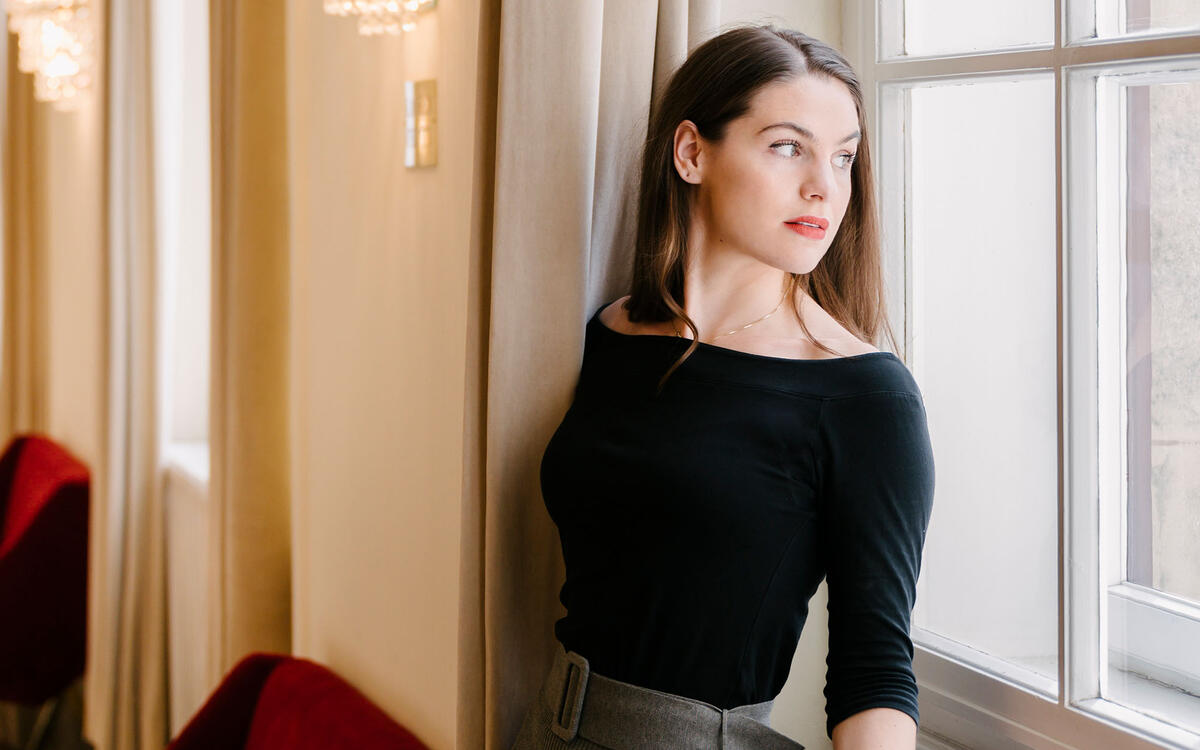 15.11.2023
PATRICIA NOLZ | Great Talent at Vienna's Konzerthaus
The young Austrian mezzo-soprano Patricia Nolz has long since ceased to be a hidden talent. With her brilliant debut as Annio in Mozart's Clemenza di Tito, she was able to show that she is now an important and much-loved ensemble member of the Vienna State Opera.
In the current season, the Wiener Konzerthaus is offering her a very special podium with several concerts as one of their "Great Talent" artists. The first concert in this series is a recital matinée, where she will perform alongside Malcolm Martineau selected songs by Johannes Brahms and Alexander von Zemlinsky, as well as the famous song cycle "Frauenliebe- und Leben" by Robert Schumann.
Frauenliebe- und Leben occupies a special position among the song cycles: Here, for once, a love story is told from a female perspective. In eight poems, the poet Adalbert Chamisso traces a great arc of life: a young woman initially surrenders to oblivious infatuation. When her feelings are reciprocated, she revels in the happiness of engagement, marriage, motherhood, which is only abruptly ended by the early death of the beloved husband. From today's perspective of women's emancipation, the role model that can be gleaned from the texts may seem outdated. But aren't the emotions of a young woman in love the same today as they were 180 years ago?
Patricia Nolz impresses with the truthfulness with which she interprets these lieder. Without being sentimental, she uses her expressive voice to share the feelings of the young woman portrayed in the text, while skilfully exploiting the emotional depth of the work. Her performance is touching and as a listener you believe her every word.
15 November 2023 | 12.30
Wiener Konzerthaus, Schubert-Saal
Patricia Nolz, Mezzo-soprano
Malcolm Martineau, Piano
SCHEDULE
15 November 2023 | 12.30
Wiener Konzerthaus, Schubert-Saal
Schumann, Brahms & Zemlinsky: selected lieder
Schumann: Frauenliebe und Leben
21 March 2024
Wiener Konzerthaus, Schubert-Saal
Wiener KammerOrchester
Patricia Nolz, Mezzo-soprano
Elias Keller, Piano
Serge Falck, Moderator
Ustina Dubitsky, Conductor
Wolfgang Amadé Mozart: Arias
14 April 2024
Wiener Konzerthaus, Großer Saal
Symphonieorchester Vorarlberg
Wiener Singakademie
Heinz Ferlesch, Conductor
Mendelssohn: Paulus
25 April 2024
Wiener Konzerthaus, Schubert-Saal
Nikola Hillebrand, Soprano
Patricia Nolz, Mezzo-soprano
Helmut Deutsch, Piano
Lieder and duets from Johannes Brahms, Felix Mendelssohn Bartholdy & Robert Schumann