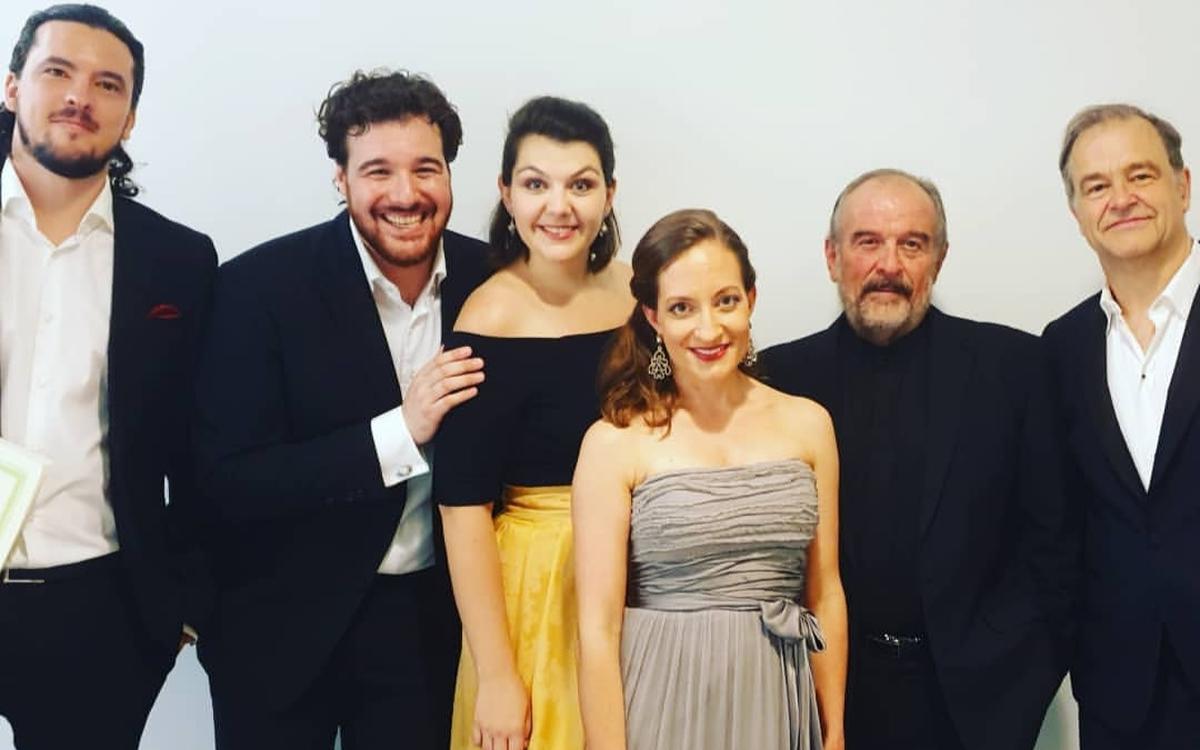 22.06.2019
Schubertiade: CHRISTIANE KARG | MAURO PETER | ROBERT HOLL
Three of our high-carat soloists participate in this year's Schubertiade in Schwarzenberg in the Vorarlberg in the last week of June. The first is the Swiss tenor Mauro Peter, who has returned regularly to Schwarzenberg since his celebrated debut in 2012. Together with Helmut Deutsch at the piano, he performs Schubert's key cycle, Winterreise.

Christiane Karg, who will give her eagerly-awaited first solo evening with clarinettist Sabine Mayer in Hohenems this coming October, and others join Mauro Peter for a quartet evening featuring Johannes Brahms' Liebeslieder-Walzer Op. 52 and Neue Liebeslieder-Walzer Op. 65. Sophie Rennert (mezzo-soprano) and Andrè Schuen (baritone) complete the vocal quartet, which will be accompanied by Helmut Deutsch and Julius Drake at the piano (for four hands).

Together with Sir András Schiff, Robert Holl shares his many years of experience and his comprehensive knowledge in two master classes at the Schubertiade, joining vocal soloists of the younger generation in a final ensemble recital dedicated to Schubert's vocal ensemble pieces.

Dates
22. June 2019 | 08:00 pm
Schwarzenberg | Angelika-Kauffmann-Saal
Mauro Peter, tenor
Helmut Deutsch, piano
Franz Schubert (1797–1828)
Winterreise
Lieder cycle on poems by Wilhelm Müller
D 911, op. 89 (1827)


25. June 2019 | 08:00 pm
Schwarzenberg | Angelika-Kauffmann-Saal
Christiane Karg, Sopran
Sophie Rennert, mezzo-soprano
Mauro Peter, tenor
Andrè Schuen, baritone
Helmut Deutsch, piano
Julius Drake, piano
Johannes Brahms:
Liebeslieder-Walzer; Drei Quartette, op. 31 (Wechsellied zum Tanze, Neckereien, Der Gang zum Liebchen); Drei Quartette, op. 64 (An die Heimat, Der Abend, Fragen); Vier Quartette, op. 92 (O schöne Nacht!, Spätherbst, Abendlied, Warum?); Neue Liebeslieder-Walzer


25. - 27. June 2019
Schwarzenberg | Angelika-Kauffmann-Saal
Master class Sir András Schiff and Robert Holl
28. June | 08:00 pm
Schwarzenberg | Angelika-Kauffmann-Saal
Sir András Schiff, direction and piano
Robert Holl, bass
Sophie Rennert, mezzo-soprano
Johannes Bamberger, tenor
Jan Petryka, tenor
David Jagodic, tenor
Markus Miesenberger, tenor
Clemens Kölbl, baritone
Georg Klimbacher, baritone
Yves Brühwiler, bass-baritone
Hariolf Schlichtig, viola
Yuuko Shiokawa, viola
Rafael Rosenfeld, violoncello
Xenia Jankovic, violoncello
Brita Bürgschwendtner, double bass
Franz Schubert:
Gesang der Geister über den Wassern (D 714), Grenzen der Menschheit,
Im Gegenwärtigen Vergangenes, Der Jüngling und der Tod, Mondenschein, Der blinde Knabe, Ständchen (D 920),
Die Nachtigall, Gondelfahrer (D 809), Der Jüngling auf dem Hügel, Totengräbers Heimwehe, Nachthelle, Zur guten Nacht,
Gesang der Geister über den Wassern (D 714)