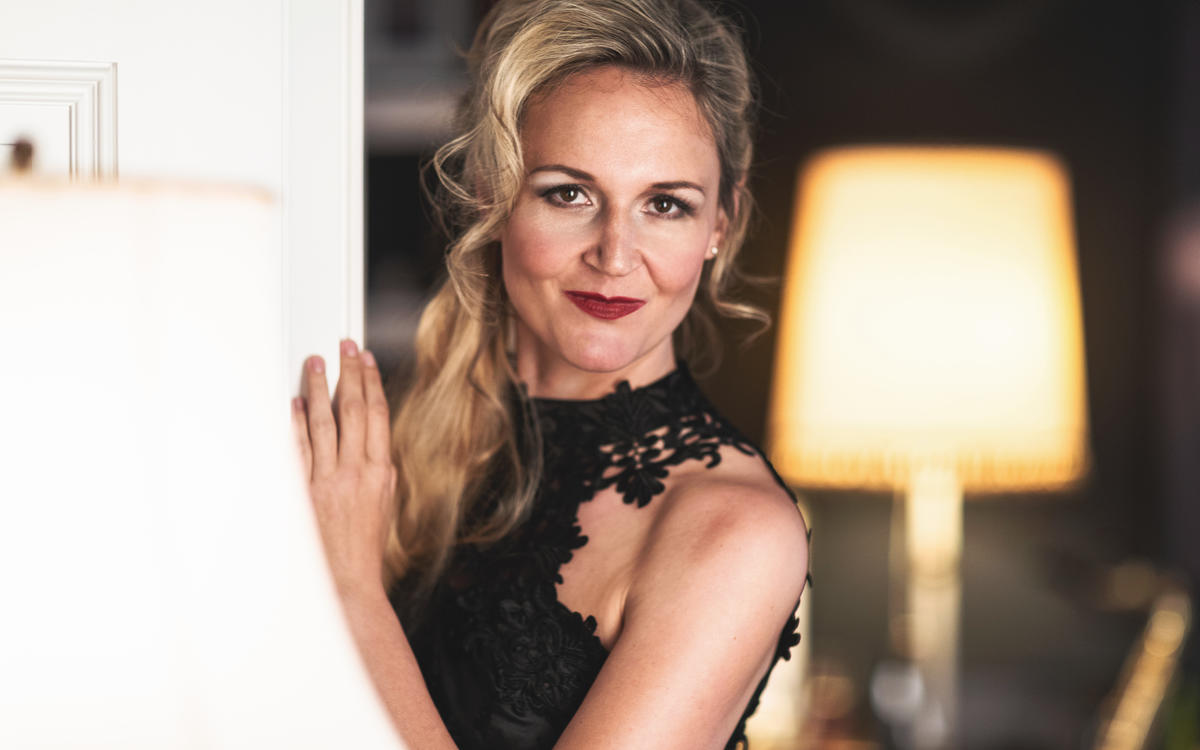 21.07.2021
KATRIN WUNDSAM in Verdi's "Rigoletto" und Boito's "Nerone" at the Bregenz Festival
The giant clown's head whose peaceful expression can change into the leer of a misogynist and a screaming grimace; the illuminated captive balloon which Gilda is abducted from after singing about love in the aria "Caro nome"; the unscrupulous but seductive duke with his entourage of daring acrobats – spectacular images of Philipp Stölzl's production travelled the world ever since the premiere. In this year's revival, the Austrian mezzo-soprano Katrin Wundsam takes once again over the roles of Maddalena and Giovanna.
At the same time, she can also be seen as Cerinto and Pèrside in Arrigo Boito's Nerone, premiered in Milan in 1924 under the direction of Arturo Toscanini. Olivier Tambosi, an ardent enthusiast of Boito, is staging this fascinating, multi-faceted opus in collaboration with set designer Frank Philipp Schlössmann and costume designer Gesine Völlm. Dirk Kaftan, who made his debut at the 2016 Bregenz Festival, is the musical director.
Rigoletto
Julia Jones | Daniel Cohen, musical director
Philipp Stölzl, stage director
Philipp Stölzl | Heike Vollmer, stage designer
Kathi Maurer, costume designer
Georg Veit | Philipp Stölzl, lighting designer
Alwin Bösch | Gernot Gögele, sound
Wendy Hesketh-Ogilvie, movement and stunt Director
Philipp M. Krenn, associate stage director
Lukáš Vasilek | Benjamin Lack, choral director
Olaf A. Schmitt, dramaturgy
The cast for the respective evening can be found here.
Nero
Rafael Rojas, Nerone
Lucio Gallo, Simon Mago
Fanuèl Brett, Polegato,
Svetlana Aksenova, Asteria
Alessandra Volpe, Rubria
Miklós Sebestyén, Tigellino
Taylan Reinhard, Gobrias
Ilya Kutyukhin, Dositèo
Katrin Wundsam, Cerinto | Pèrside
Dirk Kaftan, musical director
Olivier Tambosi, stage director
Frank Philipp Schlössmann, stage designer
Davy Cunningham, lighting designer
Gesine Völlm, costume designer

Prague Philharmonic Choir
Stage music in cooperation with Vorarlberg Conseratory
Wiener Symphoniker